The GSM-AUTO is a GSM remote control switch, it connects to the cell phone network and like a cell phone has its own cell phone number. The GSM-AUTO is activated by calling its cell phone number, it will recognise an authorised telephone number calling it, reject the call without answering and switch on or off the device connected to it, because it rejects the call without answering there are no call costs incurred.
It has 2 independent relay switches with normally open and normally closed switch contacts, these can be programmed to switch on for a pre-determined length of time whenever the GSM-AUTO controller is called.
The relay switches can also be temporarily or permanently switched on or off by sending the GSM-AUTO a sms text message command. It can report the relay status by sending back a text message.
Very good designed GSM remote control switch box in the world market
Below is a file showing how the GSM-AUTO is being used to control an aircrafts engine pre-heaters, thanks to Ken Sutton for producing this video and supplying us with his project details.
GSM REMOTE CONTROL ENGINE HEATER PROJECT
If you have completed a project using the GSM-AUTO and would like to share the deails please contact us.
CDMA-AUTO ( gsm-auto cdma version )

Applications
Applications are endless and include the remote control of heating and air conditioning in holiday homes, lighting, engine pre-heaters, aviation engine heaters, irrigation systems, water well pumps, pumping stations, cabin heaters, power cycle and reboot of remote servers, routers and computers.
New functions on our new GSM-AUTO box
Additional MODE command,then you can use the dial to switch the relay output, not only toggle the relay to work a GOT timer delay.
Additional on board battery to remain the inside clock when power off.
More freely when select to work at Open access mode ( ACM=OFF). any number can dial to control the device,any phone number can send the SMS to control the device. then our device would be very easy for customer to use on the side. not complicated programming.
Additional fast teach button, would save a lot time to read the manual command carefully. easy to press the button to teach the deive and then can control the device very easily.
GSM-AUTO android and iphone mobile phone software:
GSM-AUTO (GSM-AUTO-AC) Software for Android system mobile phone
GSM-AUTO (GSM-AUTO-AC) Softwafer for iphone system mobile phone
---
New designed new GSM-WEEKLY box
Additional MODE command,then you can use the dial to switch the relay output, not only toggle the relay to work a GOT timer delay.
Additional on board battery to remain the inside clock when power off.
More freely when select to work at Open access mode ( ACM=OFF). any number can dial to control the device,any phone number can send the SMS to control the device. then our device would be very easy for customer to use on the side. not complicated programming.
Additional fast teach button, would save a lot time to read the manual command carefully. easy to press the button to teach the deive and then can control the device very easily.
Automatically work from time to time in the preset days in a week. it can work on every week day and also can be preset only work one day
Additional recharageable Lithium-ion battery for power off alarm
One alarm input port

If want the device to work automatically on some preset days in a week, this is best choise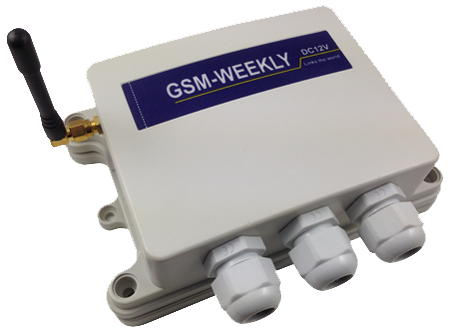 ---
GSM-AUTO is for daily working automatically
GSM-WEEKLY is for weekly working automatically

DC12V Power input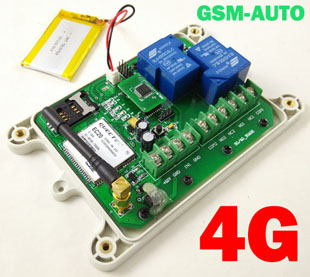 Each channel at 4000W @ 220V
Additional "Teach Button" can do the fast phone number program
More safety protection components
On board Supercapacitors to keep the realtime clock even when power off
---


AC100v-240v Power input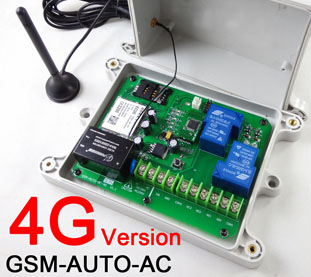 Each channel at 4000W @ 220V
Power input: AC100V-240V
---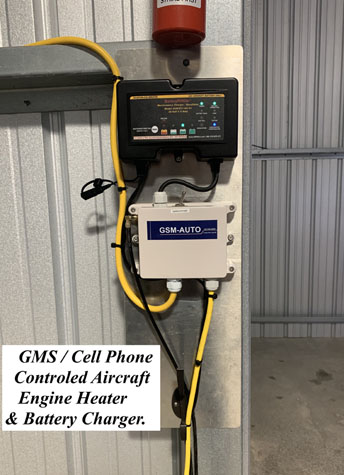 ---

Recharageable Battey for power off alarm
DC12V Power input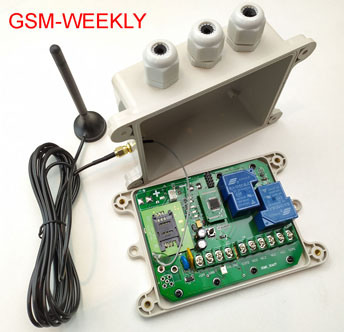 Each channel at 2000W @ 220V
Additional "Teach Button" can do the fast phone number program
More safety protection components
Fire-protection box for safety use